Volunteer at UK HealthCare
Notice: Volunteer support resuming in select areas, using a phased-in approach 
Updated March 24, 2022
Effective March 16, 2020, active volunteer support across the UK HealthCare Enterprise was suspended. In April 2021, some volunteer support resumed using a phased-in approach; this was paused again in August 2021 due to a spike in numbers. Not all volunteers have been allowed to return. We are not taking new volunteer applications for any program at this time. We do not have a date at which point we will be able to full reactivate our program.
We appreciate your patience, and interest, as we work through this process. Covid-19 continues to guide our decision making. When we are able to recruit brand new volunteers, this webpage will be updated immediately.
Why volunteer?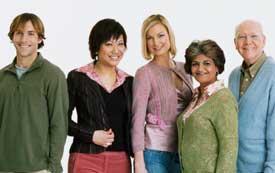 Are you interested in giving some of your time to help others during what can be a stressful period in their lives? Looking for a way to give back to the community? Curious to learn more about healthcare professions?
If you answered "yes" to any of the above, why not become a UK HealthCare volunteer? Our office offers volunteers an opportunity to use their abilities to improve the patient and family experience.
Adults 18 and older are welcome and encouraged to join us in caring for the people of the Commonwealth, and we have a yearly summer program for teens 14 to 17.
Volunteers are asked to commit to a minimum of two hours a week, and there is no maximum. We'll work with you to create a schedule that fits your lifestyle.  
Benefits of volunteering
When you volunteer at UK HealthCare, you'll know you're helping people who really need you. Our volunteers say that the time they give at UK HealthCare is an invaluable experience and that the appreciation of the people they help is the greatest reward.  
We also like to recognize our volunteers for all the hard work they do. Our volunteers receive: 
Special celebrations throughout the year.
Group outings, including trips to Keeneland and other historic places across Kentucky.  
Free parking passes (not available for current UK employees and students).
Free LexTran fare with your UK volunteer ID badge.
Discounts on meals in our cafeterias and cafe areas.
Current opportunities
Thank you for your interest in becoming a volunteer at UK HealthCare! Volunteers help across the healthcare campus, including UK Chandler and UK Good Samaritan emergency departments, information desks, surgery waiting rooms, gift shops and ambulatory clinics. We have Child Life opportunities available in the Kentucky Children's Hospital, but are not accepting new volunteers for our Baby Cuddling program. This page will be updated as soon as openings occur.
Our application process consists of the following: 
Completed application packet
In-person interview
Background check/drug screening is required for every adult over 18 (not required for teens)
Medical screens (including TB risk assessment and blood test; proof of immunity to MMR, Varicella, and Tdap; and flu shot during flu season).
Teen volunteers  
We have been approved for a limited Summer Teen Volunteer program for Summer 2022! Please read through completely for our updated information. 
Are you a teen with a sincere, personal desire to volunteer at UK HealthCare?
Are you able to work independently, and are comfortable initiating conversations?
Are you motivated and outgoing, with an interest in healthcare?
Does your summer schedule allow you to commit to 2 weekly shifts for at least 5 weeks?
Will you be 14 years old no later than March 28th, 2022?
The Summer Teen Volunteer Program is available to students 14-18 years old.  This program allows teens an opportunity to explore the nature of a large healthcare facility, as well as provide volunteer service to the community.  Mandatory virtual orientation is on Wednesday, June 8th.  The program runs from June 13th – July 22nd; shifts are from 9am – 12pm and 1pm – 4pm (only one shift can be worked per day; teens cannot work back to back shifts). Teens are required to participate in 5 of the 6 weeks, minimum of 2 shifts per week, for a total of 30 hours.  Teens must provide their own transportation.     
Please note: Teen volunteers do not perform research or observe medical or patient-care procedures of any kind.  
STEP ONE: Complete the Teen Volunteer Application online: https://redcap.uky.edu/redcap/surveys/?s=LJMXNXPKE4.  Wait to fill out the application until you have these documents, as you will need to upload and attach them via PDF. 
Attachment #1: Provide a copy of immunization record/s verifying the following immunizations:
Measles/Mumps/Rubella (MMR) – must have 2 vaccinations
Varicella (Chickenpox) – verification of having Chickenpox can be noted through medical documentation OR documentation of 2 varicella vaccinations
Tdap – must have 1 vaccination
Attachment #2: Provide a copy of COVID vaccination card if you have completed the 2 dose series.
Note: If you are in the process of being vaccinated or receiving an approved exemption, you may still apply for the program. If you are accepted into the program, you must be fully vaccinated or have an approved exemption by Monday, May 30th. Please see below for details on requesting an exemption from the vaccine requirement.
Attachment #3: Submit a typed essay of 350-450 words answering the following questions:  1. How would volunteering at UK HealthCare impact your life and why should we select you as part of the UK HealthCare Summer Teen Volunteer Program? 2. What accomplishment in your life are you most proud of?  3. What are your future goals?  Essays should be simple 12 point font, double-spaced, and include your name.  
STEP TWO: Download, complete, and submit the following together in one envelope to Volunteer Services by 5pm on Friday, April 15th: HIPAA Form and Exam, Parental Consent Form, and Media Release Form in a signed, sealed envelope.
Incomplete application packets WILL NOT be considered!!!                                                                                                       
Deadline: A completed application (both online and mailed documents) must be received by Volunteer Services no later than Friday, April 15th at 5pm to be considered for the program.  All documents listed in Step Two may be dropped off at Volunteer Services, Pavilion A, 1st Floor, Rm. 129 during business hours (Monday – Friday 8:30am – 4:30pm) or mailed to Attn: Volunteer Services, 1000 South Limestone, Pav A.01.129, Lexington, KY, 40536.
For questions and/or concerns, please contact Hannah Freeman, UK HealthCare Volunteer Coordinator at hannah.freeman@uky.edu or 859-323-5796
COVID Vaccine Statement:
The University of Kentucky considers the health, safety and well-being of our entire community to be a top priority. In alignment with this priority, all current and new volunteers must provide proof of COVID-19 vaccination or obtain an approved medical or religious exemption in order to volunteer. Volunteering cannot begin until (at least) two weeks after receiving the full COVID-19 vaccination series or upon obtaining an approved exemption. Only vaccines approved by the World Health Organization can be accepted.
Exemption Process:
Requesting medical or religious exemption from vaccine requirement
If you would like to request an exemption (religious or medical) from the COVID vaccine mandate, follow the instructions outlined below.
If requesting medical exemption, print and complete the provider letter. The signed form will need to be uploaded through MyChart exemption process.
All requests for exemptions will be processed electronically, through Epic and your MyChart account. How to Access and Complete an Immunization Declination Request Form – UK HealthCare
Information on how to sign up for MyChart is included here. You do not need to be a patient of UK HealthCare to have a MyChart account.
If an exemption is granted, the unvaccinated volunteer shall be subject to certain conditions, including regular COVID-19 testing, provided by UK HealthCare.
Surveillance Testing Protocol:
UK HealthCare volunteers who have an approved exemption will be required to test frequently. Those who submitted a declination request can expect a response to their request via their MyChart portal.
There will be designated testing locations, and individuals can expect to be tested weekly. All testing must be PCR test only and completed per timing requirement outlined. Appointments for testing should be scheduled via MyChart. See: Scheduling an Appointment for COVID Surveillance Testing
Follow this link for full details of COVID-19 Surveillance Testing Protocol.
College volunteers
With yet another spike in Covid numbers, we are unable to have students return for the Spring 2022 semester. We will update this page as we have information to share. Thanks for your understanding as we work to provide the safest environment for patients, visitors, and staff!
Adult volunteers
Thank you for your interest in volunteering at UK HealthCare. Our volunteers are invaluable to us and play an integral role in ensuring our patients, visitors, and even our staff, have a positive experience here at UK HealthCare. 
Volunteers at UK HealthCare are slowly returning to their service areas, but we are not accepting new volunteers at this time. It is unclear when we will be able to on-board new volunteers again. Updates will be posted on our webpage as they become available.  
Questions can be emailed to Volunteer Services. Thank you again for your time and interest in volunteering with UK HealthCare!
Our current wish list
The following items are things that patients will frequently request from our office. All donations should be brand new and not marked with any political/religious affiliations. Donations can be dropped off during normal business hours to Volunteer Services between the hours of 8 a.m. to 5 p.m. We are located at 1000 South Limestone, Lexington, KY 40536. 
Activity books (puzzles, crosswords, seek and finds, Sudoku, etc.)
Coloring books
Writing utensils (pens, pencils, colored pencils, crayons)
Small, compact games (such as decks of cards)
Brand new underwear (men and women, all sizes)
Sweatshirts, and sweatpants/yoga pants/pajama pants (men and women, sizes S, M, L, XL, XXL; maternity wear also appreciated)
Special holiday project: The Snow Bunny Baby Baskets! Several years ago, one of our NICU volunteers decided to put together baskets for families of NICU babies around the holidays. The project has grown, and we now put together baskets for every NICU baby in Lexington! This volunteer-led project relies on donations.  For some information on the project, including how to donate, visit this Facebook page.
Please contact Volunteer Services at 859-323-6023 or e-mail the Volunteer Office if you have any questions. 
UK HealthCare does not accept volunteers requiring court-ordered community service hours.
Our volunteer program is unable to offer externships, internships, job shadowing, drop-in assignments, etc.
Volunteering at UK HealthCare does not lead to employment within the University of Kentucky system.