We're here to lend a helping hand, to offer a shoulder to lean on, to provide a listening ear.
Our chaplains are available 24/7 year round to help patients, family and staff deal with spiritual and emotional challenges often associated with medical events and crises. The chaplain's role is to support you and your family spiritually and emotionally while in the hospital, regardless of faith or religious affiliation.
Our staff includes full-time chaplains, PRN chaplains, and CPE (clinical pastoral education) students.
You may ask a nurse, clerk, volunteer or information specialist to contact a chaplain. 
At UK Chandler Hospital, our office is located on the ground floor of Pavilion A, across from the Myra Leigh Tobin Chapel. After parking in the garage across from the hospital, you may cross the connecting bridge. When the carpet becomes tile, turn immediately to your right to either take the stairs or elevator to the ground floor. Walk through the double glass doors and turn immediately to your left. Our office is only a couple steps down the hallway.
At UK Good Samaritan Hospital, our offices are located in room B124, next to the Chapel and Conference Room A.
Pager: 859-330-2782 
Non-urgent calls: 859-226-7029 
Please page Chandler's chaplain between 11 p.m. and 7 a.m. and during weekends  
Some Reasons to Call a Chaplain
The request of a patient, family, or staff member
Major changes in the patient's care plan

New diagnosis
Such as DNI, AND (Allow Natural Death), DNR, etc.
A change to Palliative, Hospice, etc. especially on weekends or at night

Religious needs and support

Sacraments
Spiritual literature (English or Spanish)
Bibles (if requested)
Prayer
Assistance in contacting a patient's or family's religious leader

Emotional support
Difficult decisions
Before surgery
Ethical concerns
Personal concerns
Staff support
Death
Any reason, at any time you might need help!
Chapel Services
The chapels are open all day, every day.  
Weekly Services at UK Chandler:
10 a.m. Sunday in the Myra Leigh Tobin Chapel, Pavilion A.00.110 
11 a.m. Sunday in the Chapel, Room H122
Weekly Service at Good Samaritan:
12:30 p.m. Wednesday, Chapel Room B130
Special Services: UK Pastoral Care department recognizes all religions and beliefs. We provide "special" worship and meditation services for significant religious holidays. This includes, but is not limited to, Ramadan, Passover, Ash Wednesday, Easter, and Christmas. If you or your loved one are interested in the Pastoral Care department holding a special service, please contact us at 859-323-5301.
Our Staff
Rev. Joe Alverson, Director of Pastoral Care
Joe is an ordained minister and endorsed by the Cooperative Baptist Fellowship. He received a bachelor's degree in communications from Gardner-Webb University. Joe completed his Master of Divinity in Christian Education, from M. Christopher White School of Divinity at Gardner-Webb University, Boiling Springs, N.C. Joe completed his residency at Saint Joseph Hospital, Lexington. Joe worked as a chaplain for the Christus Spohn Health System in Corpus Christi, Texas, and formerly Hospice of Louisville. He has been a board-certified chaplain with the Association of Professional Chaplains since 2003. 
Joe began as the night chaplain at UK HealthCare in October 2005 and became the day-shift chaplain in October 2008. He was offered the position of interim director in May 2010 and in March 2011 became the director for enterprise pastoral care services, where he continues to help build the department and CPE program.
Rev. Dr. Cam Holzer, ACPE Certified Educator
Cam is endorsed and a clergy affiliated with the Alliance of Baptist denomination. She attended the Southern Baptist Theological Seminary in Louisville. In the 90's she was a second-year pediatric chaplaincy resident here at UK HealthCare and completed Doctor of Ministry studies at Lexington Theological Seminary. Cam then served as associate minister for an Episcopal congregation in upstate South Carolina and head chaplain for a Jewish community hospital in New Orleans for what would wind up being the years and days before, during and after the landfall of Hurricane Katrina. Most of Cam's training as a CPE supervisor was with Seton HealthCare in Austin, Texas. She supervised numerous chaplain intern and residency groups at Indiana University Health in downtown Indianapolis.
Cam returned to Lexington in the summer of 2013 to run the current Clinical Pastoral Education program at UK HealthCare.
Rev. Wes Dingman, Staff Chaplain
Wes is licensed with the Assemblies of God. He graduated with a Bachelor's degree in biblical studies and biblical languages from Evangel University in 2010 and a Master of Divinity from the Assemblies of God Theological Seminary in 2014. He was a chaplain intern for Indiana University Health at the University and Riley's Children's Hospital Campuses in Indianapolis and later provided care as a chaplain resident at the Dallas VA Medical Center.
Wes has worked for UK HealthCare since August 2016 and serves as the weekday night chaplain for Chandler and Good Samaritan hospitals.
Rev. Mark A. Dunn, Staff Chaplain
Mark is an ordained Baptist minister. He received his Bachelor of Arts degree in business administration with specialization in management from Kentucky State University in Frankfort and his Master of Divinity degree from Baptist Seminary of Kentucky in Georgetown.
Mark began working at UK HealthCare as a PRN Chaplain in 2014 shortly after completion of his CPE internship at UK that summer. He completed his residency at Norton Healthcare in Louisville. He is now a full-time staff chaplain working weekend day shifts and Monday and Tuesday evening shifts.
Rev. Jay Fulton, Staff Chaplain
Jay is an ordained minister endorsed for chaplaincy by the United Brethren Church. He received his undergraduate degree in Educational Ministry from Huntington College in Huntington, Ind. He holds both Master of Divinity and Master of Arts degrees from Asbury Theological Seminary in Wilmore. Jay served as a pastor for three years in Springfield, Ohio. Jay did his CPE internship at Mount Carmel Medical Center in Columbus, and residency at Central Baptist Hospital in Lexington. Jay has been a board-certified chaplain through the Association of Professional Chaplains since 2002. He served 10 years as a hospice chaplain with two different programs between 2000 and 2010.
Jay has been a chaplain with UK HealthCare since 2010. He currently serves UK Chandler Hospital during weekday day-shift hours.
Sarah Green, Palliative Care Chaplain
Sarah is a candidate for ordination in the Presbyterian (PCUSA) tradition. She is a graduate of Vanderbilt Divinity School in Nashville, Tennessee. She completed her CPE internship at Vanderbilt University Hospital, and residency with UK HealthCare. Sarah served as a PRN Chaplain for UK HealthCare while pursuing a mental health fellowship with the VA Health Care System.
Sarah began working as a staff chaplain in May of 2021.
Rev. Diana Hultgren, Oncology Chaplain
Diana is an ordained and fellowshipped Unitarian Universalist minister. She studied Biology and English at Kent State University in Kent, Ohio. She received her Master of Divinity from the Iliff School of Theology in Denver, Colorado. Diana interned with hospice of Boulder & Broomfield Counties in Colorado. She completed chaplain residencies at Kaiser Moanalua Medical Center and Kapi'olani Medical Center for Women and Children in Honolulu, Hawaii and Providence Alaska Medical Center in Anchorage, Alaska. She is always happy to talk about plants and honeybees.
Diana began working at UK HealthCare in April 2014 and specializes in oncology, adult and pediatric palliative care.
Rev. Susan Janos, Staff Chaplain
Susan is an ordained minister and endorsed by the International Convention of Faith Ministries. She received her Bachelor's Degree in Business Administration, a Master of Arts in Theological Studies, and a Master of Divinity in Theology from Liberty University in Lynchburg, Virginia. Susan completed her internship at UK HealthCare and her residency at the VA Health Care System in Lexington, Kentucky.
Susan has served as a PRN Chaplain at UK HealthCare since May of 2018 and started as the evening chaplain at Good Samaritan Hospital in January of 2020.
Rev. Logan Lloyd, Staff Chaplain
Logan is an ordained Christian minister in the Baptist tradition and endorsed for chaplaincy by the Cooperative Baptist Fellowship. He is a graduate of Transylvania University and received his seminary education from Wake Forest University School of Divinity. He was a chaplaincy intern at Wake Forest Baptist Medical Center and completed two years of residency at Norton Healthcare in Louisville.
Logan has worked for UK HealthCare since August 2014 and serves as a weekday chaplain at Chandler Hospital.
Rev. Christine Ross, Pediatric Chaplain
Christine is an ordained United Methodist minister endorsed through the United Methodist Endorsing Agency. She received her Bachelor of Science Degree in Aeronautical and Astronautical Engineering from Purdue University in Indiana and her Master of Divinity from Asbury Theological Seminary in Wilmore, Ky. Christine completed her CPE internship and residency at the UK Albert B. Chandler Hospital. She became a full-time staff chaplain at UK HealthCare in July 2011 (weekends and evenings) and transitioned to Kentucky Children's Hospital in September 2016.
Christine has been a board-certified chaplain since November 2013.
Rev. Matt Spangler, Staff Chaplain
Matt is an ordained minister. He received his Bachelor of Arts in Youth Ministry from Ohio Northern University in 2014 and a Master of Divinity from Asbury Theological Seminary in 2018. After graduating from seminary, Matt completed his CPE internship and his residency at UK HealthCare.
Matt began working at UK HealthCare in January of 2020 and is working Thursday and Friday evenings and weekend night shifts.
Rev. Stephen Summers, Staff Chaplain
Stephen is an ordained Baptist minister who is endorsed through the Cooperative Baptist Fellowship. He did his undergraduate studies at Western Kentucky University in Bowling Green, receiving a bachelor's degree in religious studies. After leaving college, Stephen moved on to seminary, receiving his Master of Divinity with an emphasis in Pastoral Care from the M. Christopher White School of Divinity at Gardner-Webb University in Boiling Springs, N.C. Stephen completed a CPE internship at Gaston Memorial Hospital in Gastonia, N.C., in 2009, and completed his residency at Deaconess Hospital in Evansville, Ind., in 2010.
Stephen began working at UK HealthCare in August 2011 and has been a board-certified chaplain through the Association of Professional Chaplains since 2012. He now serves weekdays at Good Samaritan Hospital. 
SOAR Program
For employees
Supporting One Another to Rise, or SOAR, is a team of trained peers at UK HealthCare who provide supportive care through active listening and empathy to colleagues involved in an emotionally traumatic event.
Learn more about the SOAR program, including how to get in contact with a peer supporter.
Clinical Pastoral Education
UK HealthCare is accredited by the Association of Clinical Pastoral Education to run programs of Level I and II CPE. We currently run extended 15-week Fall and Spring internships and an intensive 11-week intern program in the Summer.
As a teaching hospital, UK offers the opportunity for seminary students and clergy of all faiths to continue to learn how to provide pastoral care in a hospital setting. In order to apply, please complete the application on the ACPE website.
2022 Intern Program
2023 Intern Program
2022–2023 Residency Program
To learn about more clinical pastoral education (CPE) please visit the ACPE website or contact:
UK Pastoral Care Services, Clinical Pastoral Education 
1000 S. Limestone, Room A.00.115 
Lexington, KY 40536
Supervisor: Cam Holzer at cam.holzer@uky.edu; 859-323-5301 or 859-323-4140
Information for Visiting Clergy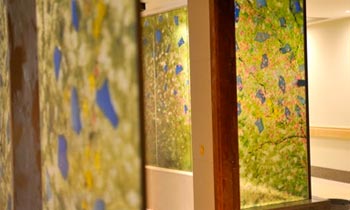 Welcome! The director and staff of Pastoral Care Services at UK HealthCare welcomes visiting clergy. UK HealthCare values pastoral care and spiritual care as significant elements of the healing process. We appreciate you joining us in that care.
As colleagues in ministry, we want your comings and goings from the hospital to be as convenient as possible, and we want to be available to help you in whatever manner you need. Please feel free to call us at any time with questions about how to navigate the hospital system. We may also call on you to help us with specific faith tradition or denominational requests.
Finding patients and patient confidentiality: You may ask for a patient's room at any of the Information Desks.
The rules regarding confidentiality in the hospital are a result of HIPAA (Health Information Portability and Accountability Act, 2003) legislation and regulations. HIPAA sets legal limits on the information that we can provide to you about patients in order to protect their privacy.
You should continue to maintain your parishioners' privacy and confidentiality. Please get your parishioners' or members' permission before sharing information about their hospitalization. Also, ask your members what they want you to share with the congregation when honoring prayer requests. It is best not to share details about diagnosis, treatment plans or prognosis.
We appreciate your sensitivity in these matters.
Patient privacy: To ensure the comfort and privacy of our patients, we ask that you:
Visit only patients in your congregational family.
Be considerate of the rights of patients and hospital staff by treating them with courtesy and respect and assisting with the control of noise and the number of visitors.
Be mindful that any information regarding a patient must come from the patient or family of the patient. Staff may not provide information to you without patient or family approval. Patients and family may prefer to keep some information private.
Health protection guidelines: To protect your own health and to support the recovery process of the patient you are visiting, please:
Do not visit patients if you are not feeling well or have an illness that could be transferred to patients.
Always wash your hands before and after visiting each patient. There may be additional scrubbing instructions for very sensitive hospital units.
Never give any patient any medication, or anything the patient may ingest, from outside the hospital without medical staff approval. (This includes sacramental items.)
Observe all posted notices on the patient's room door.
Allow the health care staff to do their work. The patient depends on them, too. If you are asked to wait outside, please keep the corridors clear.
Patients may be sensitive to strong scents (perfume, after shave, etc.).
General guidelines for special units:
You may want to call ahead to check on specific guidelines for special units (ICUs, Kentucky Children's Hospital, The Birthing Center, etc.).
Please check in with the unit clerk before visiting patients.
Observe hospital unit visiting hours. Each hospital unit may have different guidelines.
No fresh flowers or fruit are allowed in the Intensive Care Units.
Visiting hours and after-hours visits: Regular visiting hours are from 8 a.m. to 9 p.m. daily. Visiting clergy and lay pastoral visitors are not generally bound by normal visiting hours, especially in time of crisis; however, they must arrange visits according to the convenience of the patient, and the medical and clinical staff. The Information Desk staff will assist in finding the patient.
Outside of normal visiting hours (9 p.m. to 8 a.m. daily), all visiting clergy and lay pastoral visitors must enter through the main entrances. A security guard will help you find the patient and will provide a temporary visitor's tag. (You will need to present ID to the security guard.) If Hospital Security or the clergy/lay pastoral visitor has questions, special needs or concerns, the chaplain on call may be paged to assist.
Parking validation: You may have your parking ticket validated at one of the Information Desks – Pavilion A ground floor; Pavilion A first floor (next to gift shop), Pavilion H lobby or in the Pastoral Care Office.
Tracts and sacred literature: You may use appropriate religious and spiritual literature when ministering to your parishioners or others who have requested your services. General distribution of tracts and other religious literature in the hospital is not permitted. Leaving tracts in waiting rooms, lobbies, bathrooms, the hospital chapel and other public areas is not permitted. Devotional and sacred literature is available from the Pastoral Care Office.
Referrals/questions: Please feel free to contact us to make referrals or with any questions or concerns you may have regarding clergy/lay hospital visitation. You may ask a nurse, clerk, or information specialist to contact a chaplain 24 hours a day, 7 days a week.
Our pager number at Chandler Hospital is 859-330-1520. Our offices are located on the ground floor of Pavilion A, Room A.00.115 (across from the Myra Leigh Tobin Chapel). For non-urgent questions during normal work hours, you may call our office 859-323-5301.